How Do Principals Compare With Teachers in Improving Student Outcomes?
Why is this question important? Improving the performance of our schools requires a clear understanding of the important leverage points that are capable of delivering the results stakeholders are so diligently seeking. Conventional wisdom holds that teachers and principals occupy a place near the top of the pyramid in their potential to influence students. Before investing precious resources, it seems reasonable to first ask the question, does research support conventional wisdom in this matter?
See further discussion below.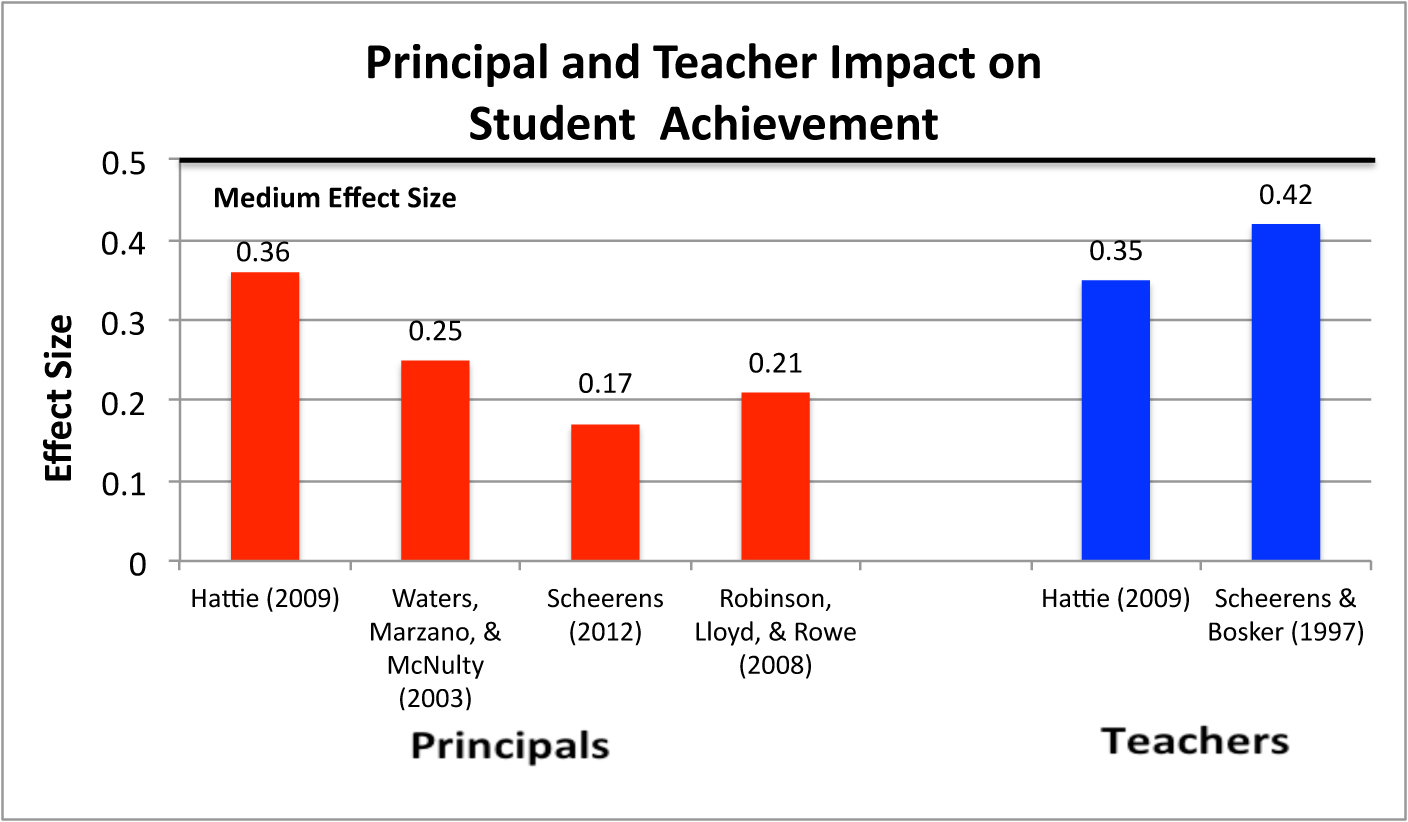 Source:
Hattie, J. (2009). Visible learning: A synthesis of over 800 meta-analyses related to achievement. New York: Routledge.
Marzano, R J, Waters, T & McNulty, B A, 2005, School Leadership that Works: From Research to Results, Alexandria, Association for Supervision and Curriculum Development
Robinson, V. M. J., Lloyd, C. A., & Rowe, K. J. (2008). The impact of leadership on student outcomes: An analysis of the differential effects of leadership types. Educational Administration Quarterly, 44(5), 635–674.
Scheerens, J. (2012). Summary and conclusion: Instructional Leadership in schools as loosely coupled organizations. In School Leadership Effects Revisited (pp. 131–152). Dordt Netherlands. Springer.
Scheerens, J., & Bosker, R. (1997). The foundations of Educational Effectiveness. Oxford: Pergamon
Waters, T., Marzano, R. J., & McNulty, B. (2003). Balanced leadership: What 30 years of research tells us about the effect of leadership on student achievement (pp. 1–19). Aurora, CO: Mid-continent Research for Education and Learning.
Results: The studies in this review offer a range of effect sizes, varying from 0.17 to 0.36 for the impact of principal leadership on student outcomes, and from 0.35 to 0.42 for the impact of teachers on student achievement. These results indicate that principals have a significant impact on the success students experience in school, but this impact is not as powerful as that of teachers. Still, it is important to note that principals rank second to teachers in effect size in variables under the control of education systems.
Implications: These results indicate that when it comes to education reform we are likely to achieve the best results if we have principals and teachers working together systematically toward common goals using agreed-upon practices.
Study Description: The studies referenced here are all meta-analyses of quantitative research in education. All examined the impact that teachers and principals have on student achievement.