Overview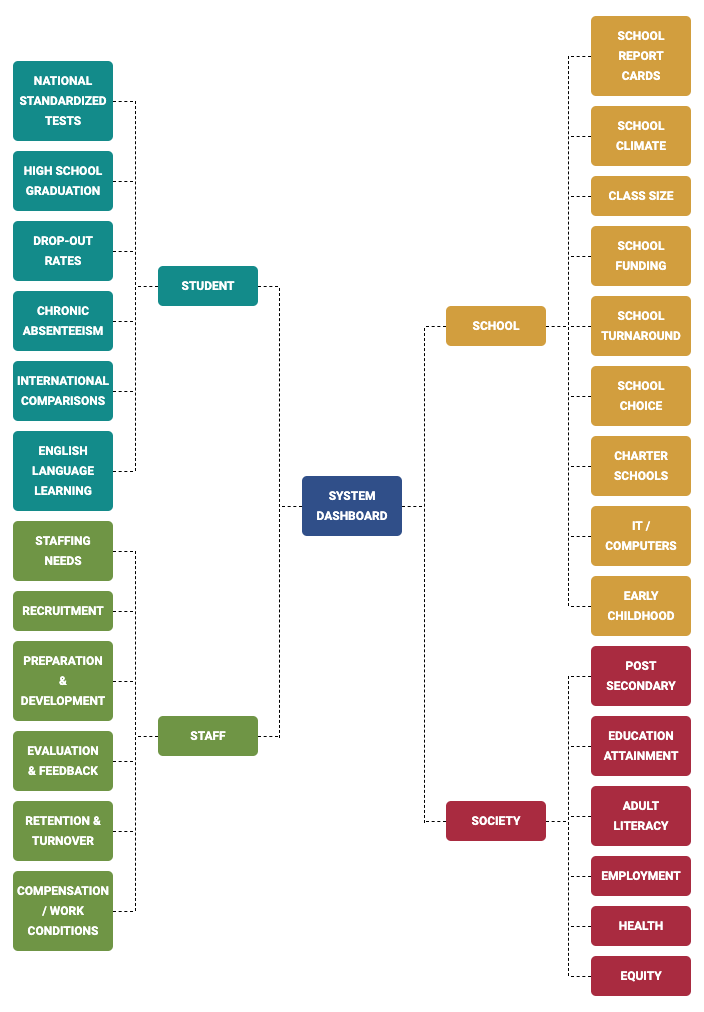 (Click on graphic to enlarge)
The system dashboard provides a snapshot of the latest data on what schools are doing and how they are doing. The dashboard analyzes, organizes, and synthesizes the enormous, complex, nuanced, and rapidly growing database of research, school improvement initiatives, policies, student performance, and system performance. What follows are the four main parts of the dashboard.
This area of the site examines data on common practices including charter schools, school choice, increased funding, class size reduction, computer-assisted education, and accountability. These practices are analyzed to better understand the impact they have on critical outcomes.
Policies are explored with an emphasis on interventions designed to produce notable outcomes and those initiatives that fail. The various interventions and their impact on critical student, societal, and system outcomes are analyzed, reviewed, and reported on. Policies examined include Every Student Succeeds, Race to the Top, school turnaround, teacher evaluation, and Common Core.
The dashboard examines the overall performance of the education system in achieving critical goals that meet society's needs. Data on progress in accomplishing meaningful equity, efficiency, participation, and long-range societal outcomes are offered for review.
This portion of the dashboard looks at outcomes directly related to students, staff, schools, and the education system. Examining these performance categories against expectations and making interstate and international comparisons are essential to better understand the overall effectiveness of schools.