What is the relationship between teacher working conditions and school performance?
Why is this question important? It is critical to understand the relationship between school culture, teacher working conditions, and student performance. Yet there has been little systematic research in this area to date. Identifying causal relationships can help decision-makers make the best use of their resources during tight budget times.
See further discussion below.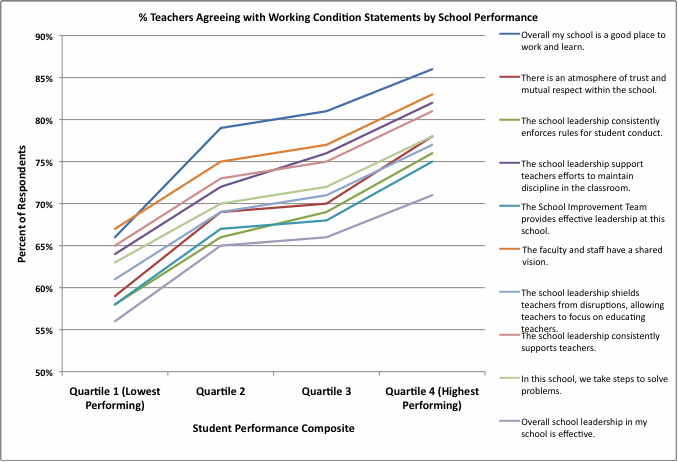 Source:North Carolina Teacher Working Conditions Survey Brief: Teacher Working Conditions Are Student Learning Conditions

Results: The data suggest a relationship between teacher assessment of working conditions and schools with higher student performance. The conclusions are hampered by several limitations. First, the teacher data relies on surveys, which often have extraneous influences. Second, while there is a suggested relationship, the data are correlational so no causation can be inferred.

Implications: The data suggests that teacher working conditions are an important piece of the puzzle for building effective student learning environments.

Author(s): Eric Hirsch, New Teacher Center and Keri Church, LEARN INC

Publisher: New Teacher Center, University of California, Santa Cruz 2009

Study Description: North Carolina's Professional Teaching Standards Commission and State Board of Education have conduced Teacher Working Condition Surveys since 2001. The above data represents the responses of over 104,000 North Carolina educators (87%) from a survey completed in 2008. The New Teacher Center analyzed the relationship between survey responses aggregated to the school-level and student performance as measured by the student performance composite. Supporting statistical and research documentation is available at www.ncteachingconditions.org.
Citation:
Hirsch, E. & Church, K. (2009). North Carolina Teacher Working Conditions Survey Brief: Teacher Working Conditions Are Student Learning Conditions (Research Brief #09-06). Retrieved from North Carolina's Teacher Working Conditions Initiative: http://ncteachingconditions.org/sites/default/files/attachments/NC_student_achievement.pdf